About Our Menlo Park Roofing Contractors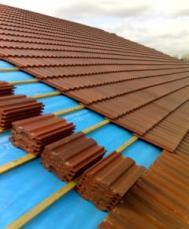 Menlo Park roofing is widely considered to be one of the best Menlo Park roofing companies in San Mateo County. We don't mind that compliment, but we tend to be a touch more modest than that. We see ourselves as reliable roofers, no doubt. We also believe that we have shown ourselves to be honest and ethical roofing contractors. We are on time, give free and honest estimates and are professional in every way that we do business. To say that we are the best roofers in Menlo Park would be a little much for us.
We do believe in service, though, and in having our roofers be clean and neat on the job. We know that integrity comes along with professionalism and top quality workmanship is just part of the way respectable roofing contractors should be doing business on a daily basis. We strive to be the roofer that we would want working on our own homes. We would want the Menlo Park roofers repairing our roof to be conscientious, hard working, knowledgeable, experienced, and to know how to work on residential roofs as well as commercial roofs. We would want them to be confident in what they're doing and we would want those roofers to also like what they're doing. If someone doesn't like the type of work that they do everyday, it is going to show. It's going to show in their attitude and it's going to show in the quality of their work.

Don't Wait For Your Roof To Fall Apart Before You Redo It!
We like what we do. It's the job that we chose to do and we feel good about every single project we have taken on. We like to do it right the first time.
We pride ourselves in being able to serve our community with skills that are truly needed. Roofing is the umbrella for your home and business. A good roof keeps the weather out and the family safe from the elements. Repair or replacement of a roof is a big decision, but when the time comes to make that choice, go with the trusted and bonded professional roofing contractor. One who you can ask your neighbors about and they will tell you which one they chose out of all the Menlo Park roofers.